LOG CABIN PACKAGE "THE SPORTSMAN EDITION"
The Sportsman Edition
3 Beds, 1.5 bath, 1100 or 1200 sq2
The Cottage Depot offers a real log cabin for the ultimate rustic cabin. We offer the Sportsman edition as per picture in a normal 24x28 version or the extended version in 24x32. Both with loft on second floor for the 2 bedrooms.
The following is a description of the process involved in building the cabin.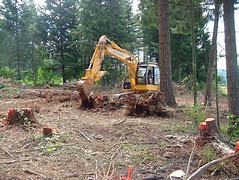 Once you have found your dream location, the first step is to clear the lot and get it ready for the pad. Depending on a few regulations, threes and top soil have to be removed, then covered with compacted A based. A dimension of 40x40 for the pad is required.
A 30x10 cement footing with re-bars is required in most jurisdiction in Manitoba. Some variations can be done such as post and pads, screw piles or full foundation. A 2x8 ptw pony walls covered with 1/2" ptw plywood goes next. The entire foundation system is sealed and heated so no insects, rodents, water, cold can get in. Heavy poly and 2" of sand is also applied.
Most utilities such as HVAC, plumbing, heathing, sump pit, water line from the well, pressure tank, septic and grey water lines all inside the crawl space.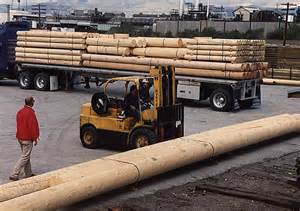 The entire log shell package and log accessories arrives on a 53' semi. Clients should contact a local forklift operator to unload the semi once at your location. A proper driveway: compact, wide and easy access is required for the driver to get in and out of your location. The extra cost for delivery above the basic price is $4,000 within one hour from Winnipeg. That also includes the other cube van delivery for other materials included in the package.
Most clients can order the log package and build the entire cabin on their own. On average, we see about 50% of clients going that route, while the other half use our service to build it to lock-up stage. Pricing for our crew to build the pad, pony wall, raising the log shell, roof system, windows and doors is based on your location. On average, about $40,000
A bobcat is a plus to avoid injuries while moving those heavy logs. Other normal construction tools required as well as sledge hammer, come-along, heavy duty impact drill, ladders, scafolding, etc.
The process of installing the log walls are fairly simple. The 10" pine logs have a double t&g system that seal and lock the logs together. An insulating tape goes on top of those groove for a perfect seal. A simple blueprints showing which logs goes where is included in the package. A crew of 4 guys is great to raise the logs. Most cabins are done within a long week-end (2-3 days)
Eng. roof trusses are used for most log homes. It is a more efficient way of doing it, saving time, money and problems compared to log trusses. A formal stamped blueprints also comes with the trusses package. Basically the roof has 3 main supports beams (front, middle, back) Those 3 beams support the LVL beam that runs from the back to the front of the cabin. The trusses are big enough to hold R60 insulation. Then 7/16 osb cover the roof and normal shingles applied. A metal roof option is also available at extra cost.
All cabins come with a raised loft area for the 2 bedrooms upstairs. A small 2 pieces bath can be added as well. The loft offer 14'x24' with high 11 feet tall ceiling. Package comes with 2 windows for the back and a door can be added, as well as extended 4' deck on back loft.
The loft system consist of 10" logs for the joists, covered by 2x6 t&g loft boards. This is a very nice, rustic, fast and affordable way of building the second floor loft area.
The lock-up stage package includes:
- Pony wall system and front deck.
- Floor system: 2x10, 5/8 t&g plywood, also the 2x6 t&g boards for loft.
- Log shell: logs for 4 exterior walls, loft logs, canopy logs, all opening pre-cut, angle iron bar, lag bolts and insulating tape,
- Windows and doors: good quality double pane low-e argon gas windows and doors included.
- Roof system: All trusses, LVL beam, 7/16 osb, ice sheld, and shingles.
- Blueprints: stamped Manitoba prints for construction, prints for the log shell, prints for the roof system.
The basic sportsman is 24x28, 3 beds, 1.5 bath, with about 1000 sq2. We also offer an extended version of 24x32 as well. This floor plan is similar to the sportsman version, and the actual blueprints can be reviewed by clients at our Morris Display center on Wed or Sat.
Other models can be custom build but keeping in mind the fact that re-drafting would be required with a higher price tag and longer production delay.
The Little Cabin That Grow With You.
The Sportsman cabin was designed to be an affordable cabin that most clients can afford today, then add one or two wings overtime.
Therefore you can build this nice cabin now and eventually add on to make it you dream lodge going from 1100 sq2 to 2000 sq2. Why wait 25 years to have your dream log home when you can have it today and enjoy it for the next 25 years.